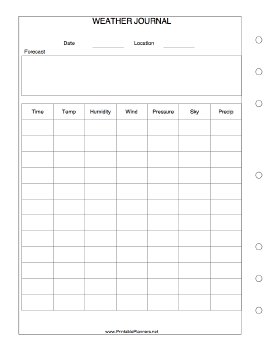 Weather Journal - Left
This weather journal page goes on the left-hand side of your executive organizer sized datebook. Farmers, nature-lovers, or anyone interested in tracking the weather can make use of this grid-style chart with spaces to record daily temperature, humidity, wind, precipitation, and other conditions.
The right-hand version of this page is also available.
My safe download promise
. Downloads are subject to this site's
term of use
.

This planner belongs to these categories:
executive
misc_journals
These related pages are also available: